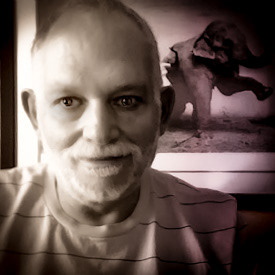 I've used a camera all my life, but mostly as a tool to achieve other purposes. Now, photography is how I express myself.
Life rushes by so quickly. Photography is my way to capture all the beauty all the joy and all the chaos that swirls around me. When I make pictures I communicate intimately with my audience. I observe. I tell stories. I learn about myself.
My camera helps me connect. Sometimes it happens at a formal sit down. Other times, it becomes a meditation about a moment I experienced.
I travel a lot now to visit places that are new to me, whether on the other side of town or half a world away. My best work is like the Cheshire cat. It often pops up when I least expect it. At times, a thought is complete right out of the camera. Other times I need to manipulate the image to uncover or highlight the essence of what I saw.
I've won Caples Awards for direct marketing. My graphics work was honored in Print Magazine, and has been featured in a number of graphics books.
My photography is self taught, but benefits from a diverse career in the arts. My work has hung at the Cummer Museum of Art and Gardens, at the Art Vandroff Gallery in Jacksonville and at the 2014 Green Hill Invitational in Yorktown Hts.